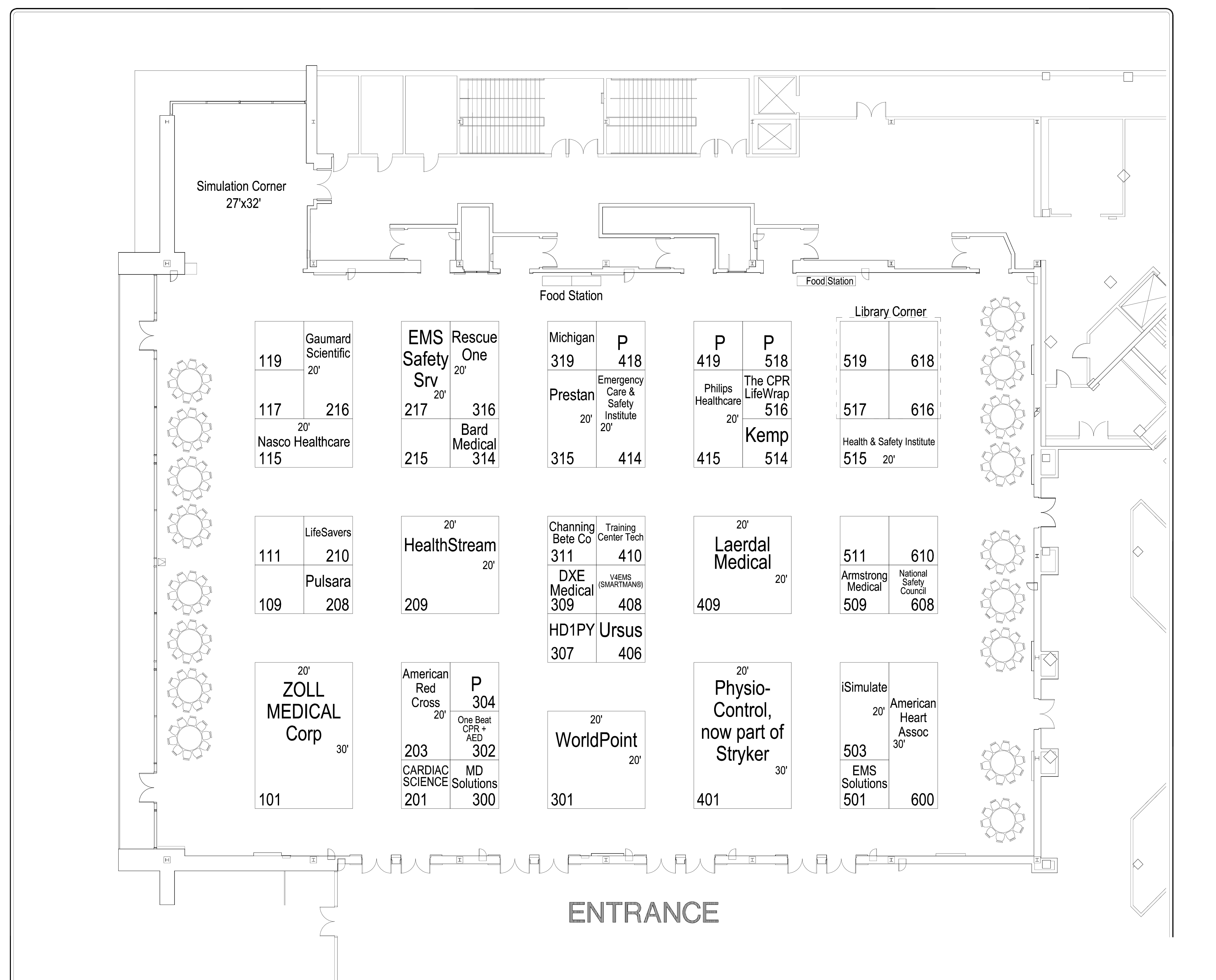 Thank you to our ECCU 2017 Exhibitors! New exhibitors added regularly.
**Booth assignment information as of 8/8/2017.
AMBU
Armstrong Medical Industries, Inc.
CARDIAC SCIENCE
CPaiR
EMS Solutions, Inc.
Health & Safety Institute
Journal of Emergency Medical Services (JEMS)*
LifeSavers Inc.
Nasco Healthcare
Philips Healthcare*
Pulsara
The CPR LifeWrap, LLC
V4EMS (SMARTMAN¬)
* indicates a Platinum Sponsor
American Heart Association*
Attune Medical
Cardio Partners (DXE Medical)
Emergency Care & Safety Institute
Gaumard Scientific
HealthStream, Inc.
Kemp USA
MD Solutions International
National Safety Council
Physio-Control, now part of Stryker*
Rescue One
Training Center Technologies
WorldPoint*
American Red Cross*
Bard Medical
Channing Bete Company
EMS Safety Services, Inc.
HD1PY
iSimulate
Laerdal Medical*
Michigan Instruments, Inc.
One Beat CPR + AED
Prestan Products, LLC
Sudden Cardiac Arrest Foundation
Ursus Enterprises Inc
ZOLL MEDICAL CORPORATION*
20th ECCU Opening Reception
When: Tuesday, December 5th
Time: 7:00 PM – 9:00 PM
Description: Network with faculty and industry leaders in the ECCU 2017 Exhibit Hall during the very popular Opening Reception! Enjoy appetizers and beverages as you mingle with fellow attendees. See the latest in resuscitation technology, education and services presented by industry-leading companies.
Breakfast with the Exhibitors
When: Wednesday, December 6th
Time: 7:00 AM – 8:00 AM
Description: Before the opening session, visit the exhibitor booths while enjoying a continental breakfast!
Breakfast with the Experts
When: Thursday, December 7th
Time: 7:00 AM – 8:00 AM
Description: Come to the Exhibit Hall and meet the experts and leaders of Resuscitation Science, Training, and Implementation. Ask a question or join in a discussion. A continental breakfast will be served.
Exhibitor Bingo!
When: More information about exhibitor Bingo coming soon.
Time:
Description:
Cash/Carry Lunch
When: Wednesday, December 6th & December 7th
Description: Boxed lunches will be available for purchase in the exhibit hall during lunch breaks on Wednesday and Thursday. Stop by the Exhibit Hall, pick-up a lunch and visit with the exhibitors!
Exhibit Hall Schedule
Tuesday, December 5, 2017
7:00 PM – 9:00 PM: ECCU Opening Reception
Wednesday, December 6, 2017
7:00 AM – 6:00 PM: Exhibit Hall Open
7:00 AM – 8:00 AM: Breakfast with the Exhibitors
10:05 AM – 10:35 AM: Morning Break in Exhibit Hall
12:25 PM – 1:45 PM: Cash/Carry Lunch in Exhibit Hall
3:35 PM – 4:05 PM: Afternoon Break in Exhibit Hall
Thursday, December 7, 2015
7:00 AM – 2:00 PM: Exhibit Hall Open
7:00 AM – 8:00 AM: Breakfast with the Experts
10:05 AM – 10:35 AM: Morning Break in Exhibit Hall
11:25 AM – 12:45 PM: Cash/Carry Lunch in Exhibit Hall