What is a PAD Program?
Public Access Defibrillation (PAD) programs are designed to save lives through increasing access to CPR training and Automated External Defibrillators (AEDs) in the community. Throughout the last two decades, communities have benefitted from placing lifesaving AEDs as publicly accessible emergency equipment. AEDs can be installed in locations as varied as public buildings, airports, recreation centers, schools, places of worship, and on mobile units such as law enforcement and lifeguard vehicles. Some individuals have AEDs for private home use.
A Lifesaving Difference
Early access defibrillation saves lives. With each passing minute during sudden cardiac arrest, a patient's chance of survival decreases significantly. Emergency responders often can't get to the scene quickly enough to save a patient. But if an AED is on the scene and deployed right away, chances of survival increase.
"With each passing minute during sudden cardiac arrest, a patient's chance of survival decreases significantly"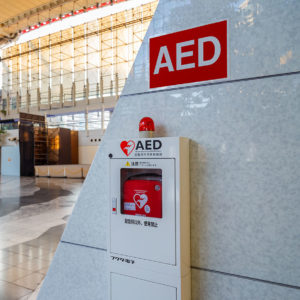 How to Start a PAD Program
PAD programs are easier to start than you might think. A successful program unites stakeholders such as emergency responders, elected officials, medical providers and community members.
Basic steps to starting a PAD program include:
Identify funding
Researching and selecting equipment
Establishing an AED deployment plan
Providing program oversight, maintenance, and training
Ongoing quality assurance/quality improvement
As you launch a PAD program in your community, you may encounter some challenges. Chief among them is funding, which can be a barrier to starting a program. Consider funding sources like budget allocations, grants, corporate partnerships, and fundraising. Don't hesitate to get creative, especially if resources are limited.
We can't stress enough the importance of planning, including the creation of partnerships before you launch your program. Enlisting the help of partners can be an effective way to navigate other areas of concern like training, maintenance, and legality. And just remember: these programs save lives and are well worth the investment of time and effort. Thank you in advance for doing what you can to help sudden cardiac arrest survival rates increase.
Time to get started!
For more information about PAD programs, including starting one in your area, contact us and we can help put you in contact with resources to help walk you through any questions.