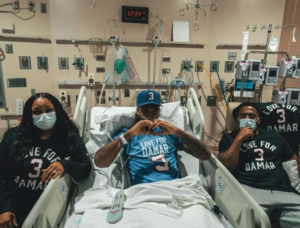 The leadership team of the Citizen CPR Foundation is so very thankful for the outcome associated with the sudden cardiac arrest of Damar Hamlin during a nationally televised NFL game on January 2, 2023. It has been estimated that 25 million people witnessed the event — or at least the immediate aftermath of the event. CPR and AED use on the football field in the context of a rehearsed emergency action plan is not only amazing; it is also a true example of success and something from which we can all learn.
Damar and the NFL are advocates for emergency action plans, CPR training and AEDs for high school athletes of all sports. In addition, the NFL has engaged in a partnership with the American Heart Association and the American Red Cross to accomplish these goals. Read more about the partnership in this issue of Currents.
Finally, please let us know how we can help you and your community also become a HEARTSafe Community. We are committed to providing the necessary tools for communities, including schools. Sudden cardiac arrest awareness, CPR and AED education for everyone, and the development of emergency action plans are of critical importance. We know that this strategy will save lives.
For more information or to get support, please contact us or visit our website. You'll also read more details about our two newest HEARTSafe communities in this issue.
Photo via Damar Hamlin | X