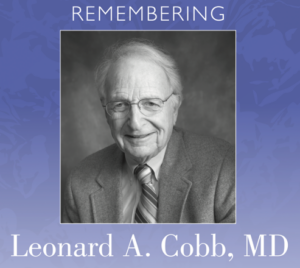 Thank you to the team at Resuscitation Academy for sharing this poignant remembrance that features a joint statement from the Seattle Fire Department and Harborview Medical Center.
We are sad to announce the passing of Dr. Leonard Cobb, a luminary in the field of cardiology. His achievements are many, but perhaps the most notable was helping establish in 1970 the Seattle Medic One paramedic program and, a year later, the creation of bystander CPR training for non-medical professionals. Both of these programs have earned worldwide acclaim and served as the inspiration for fire and emergency medical service departments to follow in Seattle's footsteps.
The Seattle Medic One program's goal is to provide emergency care comparable to what a patient would receive by a trained physician on site. In the late 1960s, Dr. Cobb took note of work being done in Europe with cardiac patients prior to arrival at a hospital that was increasing survival rates. He developed with then-Fire Chief Vickery, Harborview Medical Center and the University of Washington School of Medicine, a local program where specially trained firefighters were dispatched to provide cardiopulmonary resuscitation (CPR) until the patient could be transported to the hospital for formal care.
Constantly seeking to improve patient care, Dr. Cobb focused on resuscitation from out-of-hospital cardiac arrest. This focus led to the implementation of a tiered response system in 1970, training the public in CPR in 1971 and the deployment of AEDs for use by EMTs in 1984.
Appreciating the importance of quick action when cardiac arrest strikes, Dr. Cobb, Fire Chief Vickery and Seattle Rotary #4 launched Seattle Medic Two in 1971 to train community members in CPR. In a 2020 interview, Dr. Cobb said, "This was, perhaps, our most important contribution" to establishing Seattle as a leader in out-of-hospital resuscitation. To date, the Seattle Fire's Medic Two program has trained more than 1 million people in CPR.  
 After handing off the medical direction of the Medic One program to Dr. Michael Copass in 1993, Dr. Cobb continued to be actively involved in clinical research and ensuring the ongoing excellence of patient care by the Medic One crews until well into his 90s.
In 2008, Dr. Cobb helped create the Resuscitation Academy. His teachings drew on 40 years of experience leading a high-functioning EMS program. His advice to attendees was timeless: The quality of patient care cannot be emphasized enough; there are no magic bullets. Stick to quality CPR and never stop measuring and improving your system.
As a result of Dr. Cobb's contributions, Seattle's EMS system is held up as one of the best in the world.
Dr. Cobb will undoubtedly remain in our memories, and his legacy will continue to live on through the thousands of lives his work continues to save each year. We will remain in his debt for his innovation, leadership and passion for saving lives.