2019 Cardiac Arrest Survival Summit
Seattle, Washington
December 10 – 13, 2019
Pre-conference workshops December 9th & 10th
2019 Video Minute Contest Winners
The Citizen CPR Foundation and the Sudden Cardiac Arrest Foundation held a public service announcement or PSA "Video Minute" contest as part of Summit 2019.
First Place Winner – Can't Stop Compressing
Congratulations to the first place PSA video contest winner from LA County Fire Department, "Can't Stop Compressing."
Second Place
You CAN save a Life
Third Place
The Power Is In Your Hands
Fourth Place
You Are Not Alone
Fifth Place
Whose Life Will You Save Today?
Hans H. Dahll Award Winner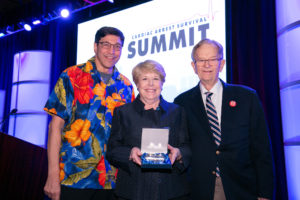 Vinay Nadkarni, MD and Ward Montgomery, MD presents Mary Fran Hazinski, RN with the Hans Dahll Award
The late Hans H. Dahll was a founding director of the Citizen CPR Foundation and served on the Board of Directors from its inception in 1987 until 2000. Recipients of the Hans H. Dahll Award have had many years of service in research and publication, teaching and education, landmark contributions to the science of CPR and ECC, developed new and innovative technological breakthroughs and had a national and international influence on clinical practice. Learn more about the award here.