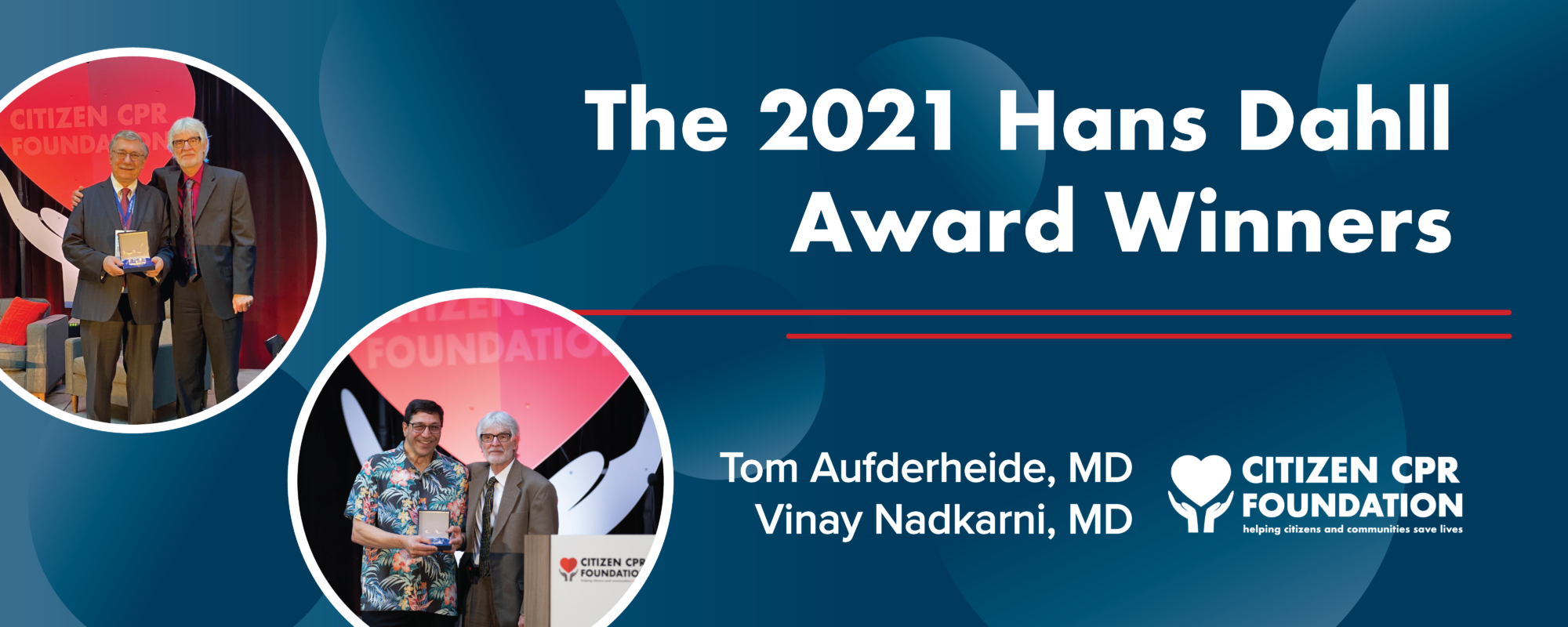 Background
The late Hans H. Dahll was a founding director of the Citizen CPR Foundation and served on the Board of Directors from its inception in 1987 until 2000.
The Citizen CPR Foundation became a reality in large measure because of Hans Dahll and he served as the foundation's treasurer for eight years. Hans also provided the stimulus to create the newsletter Currents which was published as a joint venture between the American Heart Association and CCPRF. He was always quite eager to initiate the path to success in a particular area, work hard with other individuals to achieve that task, be quite willing to let others take the credit and enjoy their successes. In his own unselfish way, Hans was quite independent of his very prominent corporate position and contributed greatly to CPR and ECC (emergency cardiovascular care) efforts nationally and internationally.
In recognition of the contributions Hans made to the field, in 1988 the Citizen CPR Foundation established the prestigious Hans H. Dahll Award in his honor.
By definition, recipients of the Hans H. Dahll Award have had many years of service in research and publication, teaching and education, landmark contributions to the science of CPR and ECC, developed new and innovative technological breakthroughs and had a national and international influence on clinical practice.
This award has been presented to leaders in the field at every Emergency Cardiovascular Care Update (ECCU) conference since 1990.
Criteria
The annual Hans Dahll award is given based on the following criteria:
1. Ongoing contribution to CPR and ECC over time
2. Substantial contribution ECC programs and materials
3. Authorship of articles, books, and education and teaching materials related to CPR and ECC
4. Landmark contribution to the science of CPR and ECC
5. Development of new and innovative technological breakthroughs
6. Positive influence on progression toward goals of ECC programs
7. Have made CPR and ECC prominent aspects of their careers
8. Have received national and international recognition for contributions to ECC
9. Are in the later stages of their careers
10. Are currently recognized as major contributors but were not previously honored
Previous Hans Dahll Award Recipients:
Vinay Nadkarni, MD & Tom Aufderheide, MD, 2021
Mary Fran Hazinski RN, 2019
Tore Laerdal, 2017
Gordon Ewy, 2015
Joe Ornato, 2014
Lance Becker, 2012
Knickerbocker, Jude & Kouwenhoven (posthumously), 2010
Max Harry Weil, 2008
Peter Baskett, 2006
Roger White, 2004
Richard Cummins, 2002
Mickey Eisenberg, 2000
Douglas Chamberlain, 1998
Leonard Cobb, 1996
Leon Chameides, 1994
Peter Safar, 1992
Bill Montgomery, 1990
Hans Dahll, 1988