SaveStation is Working Together with the Resuscitation Community to Address the Sudden Cardiac Arrest Health Crisis with 24/7 Access to Life-saving AEDs

COVID-19 has challenged us in ways that nobody could have imagined just a few short months ago. One of the great lessons from our collective experience in fighting this pandemic is that if we work together, adapt our thinking and change certain behaviors, we can defeat a common foe and save thousands of lives. This same lesson should be applied to our efforts in fighting another global health emergency – one that unfortunately has proven to be as serious and stubborn a health crisis as we've ever known: Sudden Cardiac Arrest (SCA).  
As those of us in the industry know all too well, SCA continuously ranks as one of the leading causes of death around the globe. In the United States alone, SCA claims the lives of more than 350,000 Americans annually, this equates to just under 1,000 deaths per day and 1 person almost every 2 minutes.  SCA is also a serial killer – often striking without warning and without regard to age, sex, race or pre-existing conditions. Whoever it strikes, we know that time is critical. For every minute without defibrillation, chances of survival decrease by 10%, so that after 10 minutes without defibrillation the chances of survival are almost zero. 
In the face of these dire statistics, we've witnessed the tireless efforts by so many CPR and AED advocates to place more and more AEDs in public spaces, and to train an increasing number of people in CPR and AED use. In that regard, we're making progress. Still, despite these efforts, the sad fact is that the survival rate for out of hospital SCA victims has remained fairly stagnant over the years at 5-10%. So the question is, how can we work together to change our collective thinking, alter our approach and act differently than before to improve SCA outcomes?
SaveStation was founded to help answer that question. Digging into the research, it's clear that one of the strongest levers we can pull to reduce SCA response times is to improve AED awareness, access and understanding. Through its first-of-its-kind suite of indoor and outdoor cabinets to house AEDs and other urgent medical supplies, and its open-sourced training videos for any brand of AED, SaveStation is pioneering a universal AED cabinet standard and enabling a sense of familiarity and confidence around these lifesaving devices. The mission is to not only provide 24 x 7 AED coverage, but to inspire people, communities and organizations to act differently, and collectively, to combat sudden cardiac arrest. From AED manufacturers and training organizations to not for profit advocates and business leaders, and from distributors and healthcare providers to SCA survivors and community leaders – new thinking will drive new results: a significant reduction in the amount of sudden cardiac arrest deaths. 
Last week, the U.S. Senate approved a bipartisan bill to allocate over $2.8 billion a year to maintain and improve national parks. Imagine walking down newly renovated trails at the Rocky Mountain or Yellowstone National Park, and seeing brand new SaveStations housing lifesaving AEDs every 3-4 minutes. Then imagine that same image throughout your neighborhood or city's park system, or throughout the campus of your child's school. Now imagine working together to make this vision a reality.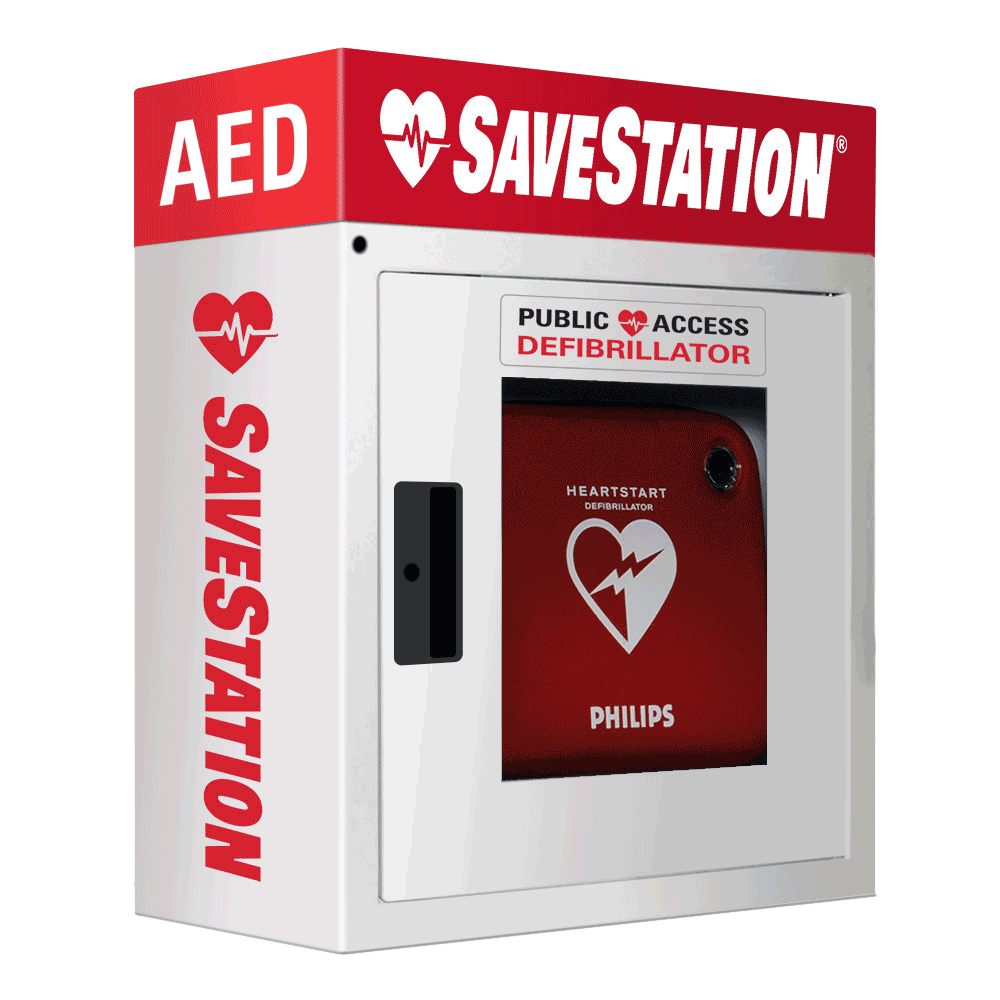 SaveStation is for any AED – anywhere!

SaveStation is inspiring a grassroots movement to help combat the sudden cardiac arrest health crisis
Tens of thousands of lives can be saved every year by simply making AEDs more accessible and recognizable through the placement of SaveStations across our communities where we live, work & play.
SaveStation is welcoming every CPR & AED ambassador to launch a Neighbourhood SaveStation Program in the heart of their community. Anyone can use SaveStation's free crowdfunding tool to raise money and place an AED on the side of their home or in their community. 
Together, we can drastically eliminate unnecessary deaths from sudden cardiac arrest.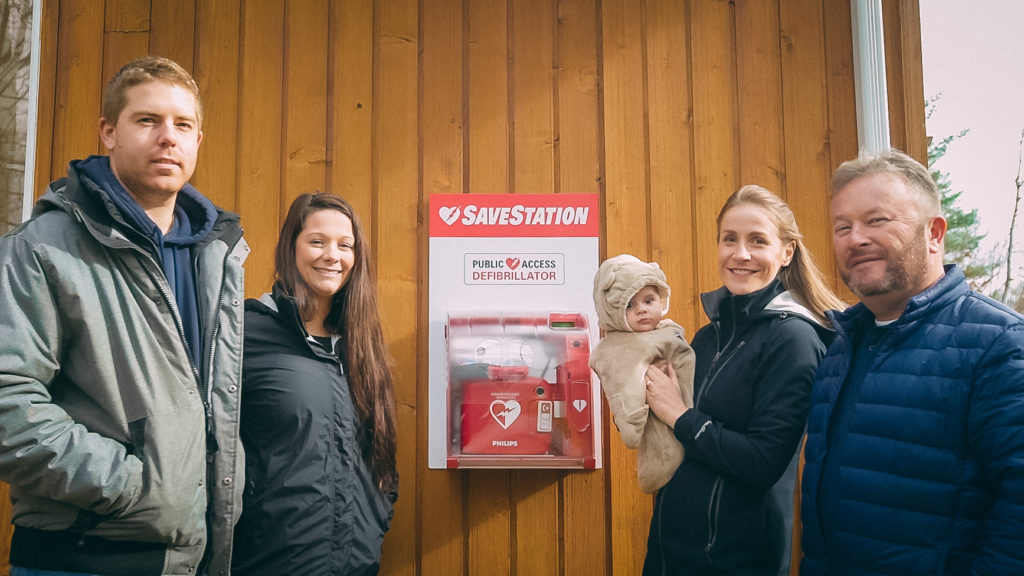 "My husband and I used the SaveStation crowdfunding tool to raise the money needed to put a SaveStation on our home. We hosted a CPR & AED Party and showed everyone how to use it!" – Brittany, Firefighter and CPR/AED Instructor, Ontario, Canada
It's easy for anyone to take the lead and launch a Neighbourhood SaveStation Program in their community. Host a CPR party to share this knowledge with friends and neighbours, create broader awareness and increase access to life saving AEDs!
Local businesses helping to place SaveStations
SaveStation provides local businesses with meaningful sponsorship opportunities to place life-saving AEDs into the heart of any community. Phone or email alerts will provide an update anytime it's removed for use and the built in camera will take a photo.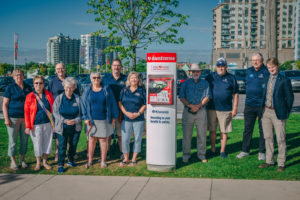 This SaveStation was sponsored by the local Kiwanis Club and placed outside in the heart of a community.
More than a cabinet
SaveStation is creating broad awareness about sudden cardiac arrest and providing critical education to help the general public feel confident to step in and take action. Anyone can access and share the full suite of educational videos with clear instructions about CPR and how to use any AED make and model.
SaveStation provides a consistent look for any AED anywhere
With technology that keeps AEDs warm in the winter and cool in the summer coupled with remote monitoring capabilities, we can confidently make AEDs available 24/7 while reducing fear of damage or theft.
SaveStation distributors have full access to a suite of premium marketing materials designed to help promote and sell more AEDs for public access – indoors and out.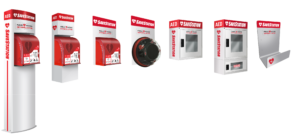 Together, we will save more lives from sudden cardiac arrest!