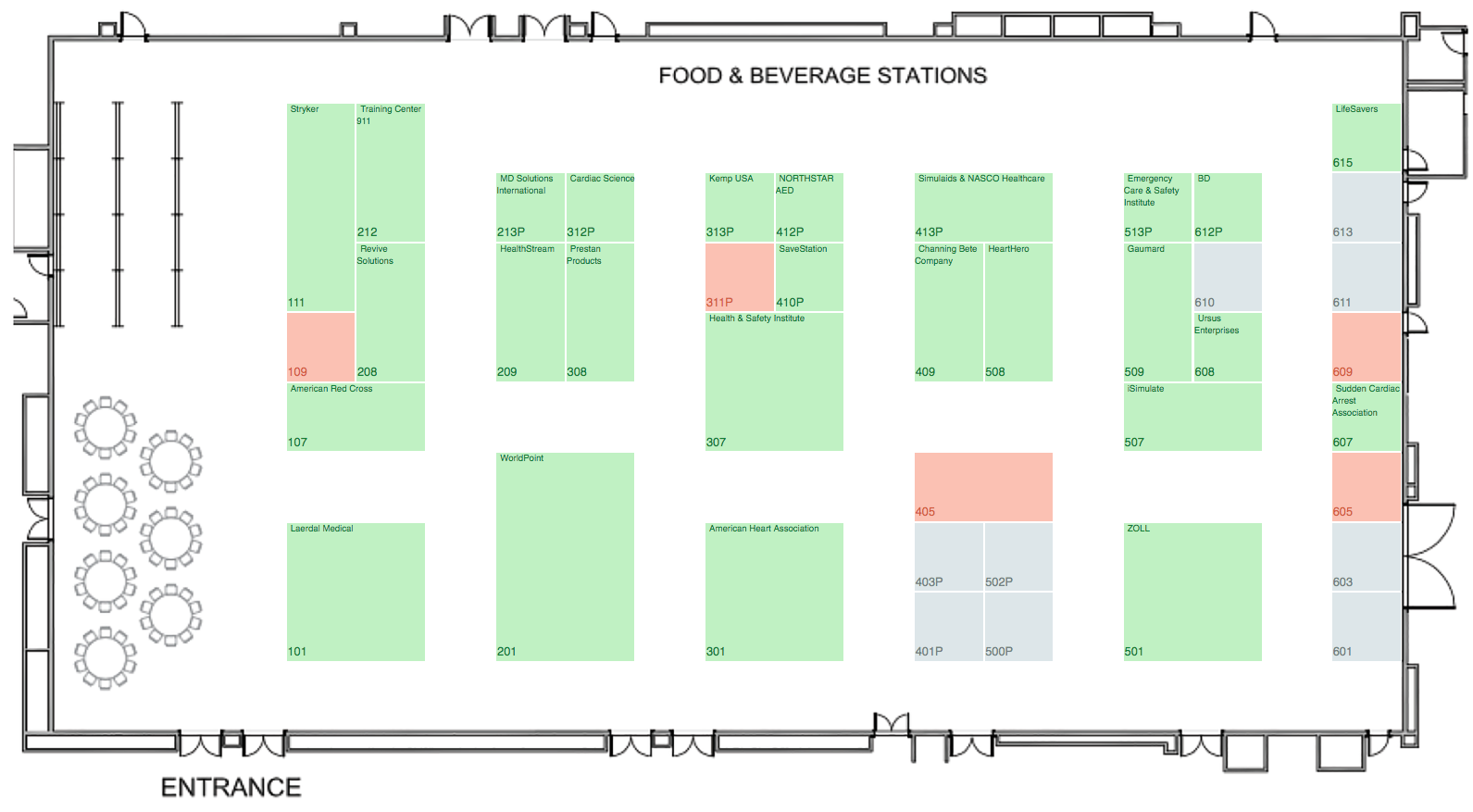 Thank you to our Summit 2019 Exhibitors! New exhibitors added regularly.
**Booth assignment information as of 8/5/19.
American Heart Association*
Booth #301
American Red Cross*
Booth #107
BD
Booth #612P
Cardiac Science
Booth #312P
Channing Bete Company
Booth #409
Emergency Care & Safety Institute
Booth #513P
Gaumard
Booth #509
Health & Safety Institute
Booth #307
* indicates a Platinum Sponsor
HealthStream
Booth #209
HeartHero
Booth #508
iSimulate
Booth #507
Kemp USA
Booth #313P
Laerdal Medical*
Booth #101
LifeSavers
Booth #615
MD Solutions International
Booth #213P
Northstar AED
Booth #412P
Prestan Products
Booth #308
Revive Solutions
Booth #208
SaveStation
Booth #410P
Simulaids & NASCO Healthcare
Booth #413P
Stryker*
Booth #111
Sudden Cardiac Arrest Association
Booth #607
Training Center 911
Booth #212
Ursus Enterprises
Booth #608
WorldPoint*
Booth #201
ZOLL*
Booth #501
Don't miss these Exhibit Hall Activities
21st Opening Reception 
When: Tuesday, December 10th
Time: 7:00 PM – 9:00 PM
Description: Network with faculty and industry leaders in the Summit 2019 Exhibit Hall during the very popular Opening Reception! Enjoy appetizers and a beverage as you mingle with fellow attendees. See the latest in resuscitation technology, education, and services presented by industry-leading companies.
Breakfast with the Exhibitors 
When: Wednesday, December 11th
Time: 7:00 AM – 8:00 AM
Breakfast with the Champions
When: Thursday, December 12th
Time: 7:00 AM – 8:00 AM
Visit the Exhibit Hall during the following hours:
Tuesday, December 10, 2019
7:00 PM – 9:00 PM: Summit Opening Reception
Wednesday, December 11, 2019
7:00 AM – 4:15 PM: Exhibit Hall Open
7:00 AM – 8:00 AM: Breakfast with the Exhibitors
10:05 AM – 10:35 AM: Morning Break in Exhibit Hall
12:25 PM – 1:45 PM: Cash/Carry Lunch in Exhibit Hall
3:35 PM – 4:05 PM: Afternoon Break in Exhibit Hall
Thursday, December 12, 2019
7:00 AM – 2:00 PM: Exhibit Hall Open
7:00 AM – 8:00 AM: Breakfast with the Champions
10:05 AM – 10:35 AM: Morning Break in Exhibit Hall
11:25 AM – 12:45 PM: Cash/Carry Lunch in Exhibit Hall