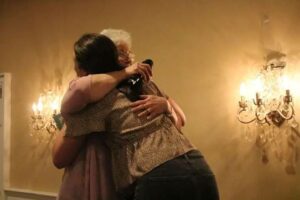 What better way to celebrate the power of the chain of survival, including bystander action, than by reuniting SCA survivors with the people who helped rescue them?
Dartmouth Health member Cheshire Medical Center recently hosted the first Rescuers Reuniting With the Rescued: A Celebration of Survival, bringing together 10 people who experienced SCA in 2021 and those who saved them, including:
911 telecommunications dispatchers
Bystanders who performed CPR
Law enforcement officers who used AEDs
Fire department first responders
EMS clinicians
SCA survivors attending the event included Pauline Johansen, 71, who collapsed while raking leaves last September. As Ryan Spencer reported for The Keene Sentinel, two sisters and neighbors — Emma and Camryn Carey — stopped while driving by, called 911 and performed CPR for seven minutes until rescue personnel arrived.
At Rescuers Reuniting with the Rescued, Pauline got to thank Emma and Camryn with a hug.
"I want to thank my guardian angels," Johansen said, as quoted in The Keene Sentinel.
The event also gave organizers and attendees a chance to recognize the region's high bystander CPR rates — around 70%, according to a press release from Cheshire Medical Center.
"These high rates are likely due to telecommunicators at 911 recognizing patients who are in cardiac arrest and directing bystanders to perform CPR," said Jim Suozzi, DO, associate medical director and EMS medical director, Cheshire Medical Center. "National CPR and AED Awareness Week, June 1-7, highlights the importance of knowing how to perform CPR and use an AED. We also wanted to take this opportunity to celebrate these remarkable saves and promote awareness."
Cheshire Medical Center, Best Western Plus Keene, Tempesta's Restaurant and ZOLL, a Citizen CPR Foundation partner, teamed up to sponsor Rescuers Reuniting with the Rescued.
Read more about Rescuers Reuniting with the Rescued in The Keene Sentinel and also tune into WKBK Radio's Good Morning with Dan Mitchell for an interview with a panel of CPR and AED experts, including Dr. Suozzi. If you have an SCA save story that you'd like to share with Citizen CPR Foundation, please reach out to Katy Schamberger. Click here to send Katy an email.